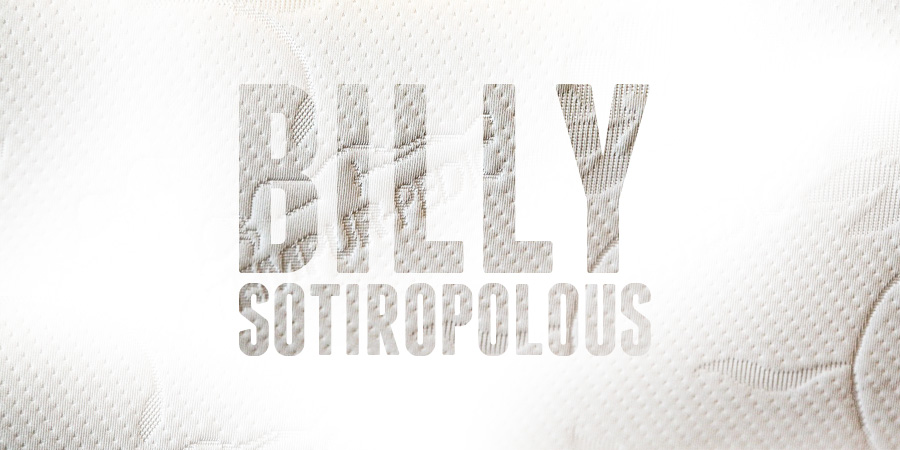 (Houston, TX) – A couple of weeks ago, The Sleep Center had an opportunity to sit down with a fantastic Gallery Furniture employee Mr. Billy Sotiropoulos, who has worked in the bedding department of Gallery Furniture for the past 13 years. Billy truly embodies the Gallery Furniture atmosphere and value for customer service. He offered amazing answers to all of our questions just about as fast as we could throw them at him. So,we've decided to share some of the things that we learned from Billy during our day spent with him.
Walking into the Gallery Furniture store off of Interstate 45, we were greeted by Jim McIngvale – the legendary Houston icon, businessman, and the founder of Gallery Furniture, who is also known as Mattress Mack. On most days, Mattress Mack will be the first person that you will see upon entering the store, and today was no exception. After an exchange of niceties with Mr. McIngvale, we headed to Billy Sotiropoulos.
Billy was deep inside the bedding department explaining to a middle-aged couple that he himself had been sleeping on a Tempur-Pedic model bed for the past 6 years. There was a serene warmness in the way Billy addressed the couple. Billy explained to them; "You should always, always, remember that your first night on your new bed is not going to be the best sleep you've had in years. Think of it as a pair of new leather shoes. You have to break the bed in and the bed has to break you in. I know it sounds a little weird, but your body has been used to one thing for so long and now your muscles are having to adjust to something brand new. So if you don't like it at first; don't worry, its normal."
Billy finished helping the couple, and we made our introduction. He sincerely apologized for having us wait, and reasoned that it may happen periodically throughout our day together.
We asked Billy about the advice he had given to the couple about not expecting to have the best night's sleep on the first night of owning a new bed. Furthermore, we asked how long should a new bed purchaser expect it to take to break in the bed? Billy replied; "You should always expect that anywhere from the first couple of nights to the first couple of weeks may not be comfortable. I know this might sound crazy and like a long time, and believe me it is, but just remember some of the best things in life take a little work, and a bed is definitely one of them." He explained to us that in the year 2000 when he first started working in the bedding department of Gallery Furniture, a bed could only be exchanged within the first few days of having it, and that policy made for a massive amount of exchanges. Billy lobbied to change the process up so that customers could try the beds for 30 nights before having them make a switch if necessary. Ultimately, it reduced the amount of exchanges drastically.
We asked Billy if he really sleeps on a Tempur-Pedic bed, and he enthusiastically said that he did. He told us that other than the fact that his Tempur-Pedic is the most comfortable bed he had ever slept on, Gallery Furniture has allowed him to travel to see bedding factories all over the United States, and even took him to London to tour the ViSpring factory last year. "Being able to walk through the assembly line you always gain a better perspective of how things are made. Each company has differences in their processes, but I would have to say that the Tempur-Pedic plant is by far the best. At the end of the day, it is what you do different that sets you apart from everyone else. You should see their [Tempur-Pedic's] warehouse, it is immaculately clean and these guys do everything differently with everything computerized and nothing wasted. There are no scraps leftover, no clutter on the floor, and the quality control is phenomenal. Every
batch [of bedding material] that is poured is tested thoroughly and marked accordingly to make sure that if something fails they can track it back to the second that it was poured, cured, or cut. Believe me when I say Tempur-Pedic made a total believer out of me. They've made their bed a work of art and they are the best at it!"
Billy started telling us about how he had been to 'Market 6 or 7 times for Gallery, and before he got any further, we stopped him and admitted that we had no idea what 'Market was. "It's the Furniture Market," Billy said with a gleaming smile. "The best thing to compare it to would be a big fashion show" He told us that it was a different experience at the Furniture Market each time. "The whole purpose is to find out what's hot, who's who, and what is coming out at the moment in the furniture industry. It also gives us the opportunity to look at fringe items that could be the next 'IT thing. Market is where we've been really fortunate to discover items that our customers love, before anyone else!" Billy said that Gallery Furniture first discovered Mango furniture and Tempur-Pedic beds while at 'Market, which are two of the most popular items in the entire store. "We [at Gallery Furniture] tend to get tunnel vision while working at one store, and going to market gives us the opportunity to see what is trending and most importantly what is on the horizon."
Before we could go any further, Billy was asking a young searching customer what he could help her with. We decided to ease off for a moment, allowing Billy to do what he loves most—customer service-while we grabbed some complimentary coffee and cookies near the front entrance. When we made our way back to him, he was in the Sealy section of the bedding department talking with a small crowd of seemingly unrelated customers like a seasoned politician on the campaign trail.
We asked Billy more questions whenever he had a free moment. Our conversation slowly went from Gallery Furniture factoids to his opinions on sleep topics. When we asked Billy how important is it to get a good night's rest he replied; "As important as water and sunlight is to a plant. If you want to feel good and look good, then you should sleep!" Then he added, "I believe that sleep is important because it is vital to our everyday life and it affects your physical and mental well being."
Before we were able to get too much further along, Billy let us know it was time for his lunch break and invited us to join. We followed him to the Gallery Furniture cafeteria as he ignored the traditional aisles and walkways while weaving past dining sets and cutting through showrooms on a direct route that he must had mastered only after years of being there. Billy recommended the baked chicken which was surprisingly delicious, and we again started to pick his brain. We talked about practicing good sleep hygiene habits and Billy had some suggestions; "Never just jump into bed and hope to fall asleep. You need to wind down when getting ready for bed, and one thing you should do is take the time to relax before you roll over to turn out the lights. Reading a book or a magazine to take your mind off of the day is essential and a necessity to getting a good night's rest. If you can't fall asleep and you're tossing and turning, get up. Do not spend all night trying to keep your eyes closed. Get up and do something to take your mind off of things, preferably not involving the television.
As we made our way back to the showroom floor, we asked Billy about the European bedding system in the hopes that he could explain it to our readers. "I am still trying to adjust to it," Billy joked. "A European style of pillow is about double the size of an American pillow. The idea is to have more of your upper body sleeping on the pillow as opposed to just your head."
Billy also told us that spending the extra money for quality bedding is a good investment and that you don't want to skimp on things that you know will make you more comfortable. "I think the worst mistake that people make is buying a premium bed and then going to a Wal-Mart or the equivalent and buying a set of $25.00 sheets." He also recommended that customers should keep three sets and change and wash their sheets every week. "You have to remember, even though you are asleep at night, your body is still at work. It is burning the food that you ate and healing your body's cells. So always take this into account, and remember that a cool, clean sheet is essential to sleeping well."
It was now late in the afternoon, and our time with Billy Sotiropoulos was coming to a close. We chatted for a bit longer and Billy told us about his 4 year old son, and specifically about his son's sleep patterns, "My wife and I try to get him to bed as early as possible so that he can get 9-10 hours of sleep. The only thing is that he tries to wait up until I get home at night. We try to convince him to take a nap, in an effort to counteract the time he stays up waiting on me. The key is keeping a pattern." Billy suggested laying down with your child if you get the chance to, he explained that it can help the child to relax, and; "it is a good excuse for you to take a nap too!"
We asked Billy why should a customer come to Gallery Furniture to buy a new bed. Why not just order one on a television infomercial or from the Internet? His answer was a perfect ending to our Sunday conversation; "Sleeping should make up one-third of our lives. I think that you should keep your bed as long as your are comfortable on it. Most people use mattress protectors and covers to keep their beds clean. As long as you do that with a quality bed, you should be able to get 10 years out of it," he said emphatically. Billy said to keep in mind that once your bed starts sagging or you're waking up uncomfortable, that it's not going to get better. "Change the bed out and get a new one, and when doing so, you want to get a true feel for what you are buying. A bed is something that cannot be bought on just emotion. You would not buy your car or your house in such a manner, and the same goes with your bed, where you will spend a great deal of time over the next 8 – 10 years. So tell our blog readers to come in and let one of our experts guide them in the right direction and then make the decision that best fits THEM!"
Billy's superior knowledge and insight on all things sleep is not only impressive, it is an emblem of expert service that provides satisfaction memories reminiscent of yesteryear. Like many of the Gallery Furniture employees; Billy offers a type of customer attention that has slowly diminished elsewhere over the years, a quality that is sorely lacking in American business today. We would like to thank Mr. Billy Sotiropoulos for his time, and for helping us sleep better!