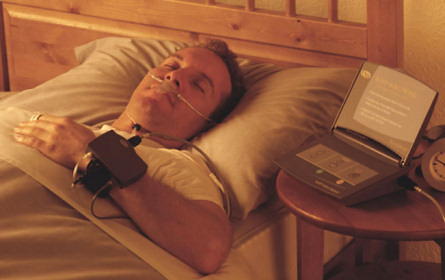 At the 2012 Comsumer Electronics Show, Novasom unveiled an obstructive sleep apnea (OSA) test kit that has been cleared by the FDA and uses the Verizon Wireless network to collect sleep data wirelessly.
NovaSom describes the test as: "The AccuSom, NovaSom's second-generation home sleep test, is a smartphone-sized portable Type III cardio-respiratory monitor. Its multichannel sensor system monitors the five parameters necessary for OSA diagnosis: respiration airflow, oxygen saturation, pulse rate, respiration effort and snoring."
The test is prescribed by physicians and set up by the patient through a series of voice prompts. NovaSom claims that the Accusom home sleep test can be more effective over a couple nights of collecting and transmitting data than spending a night at the sleep clinic.