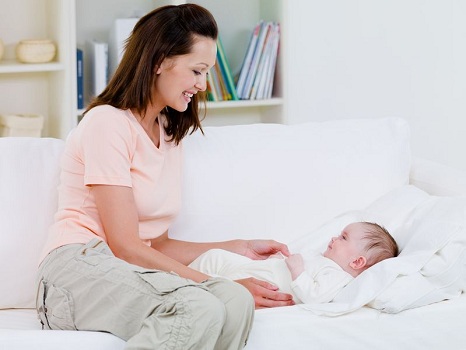 It can be a nerve-wrecking time for many parents as they put their infants to sleep. Researchers, pediatricians and parents have been in a long debate on the issue of bed sharing and the best position for an infant to safely collect their snooze.
Recently, The New York Times filled us in on published research that suggests that parents should be aware of the dangers of letting their infants sleep on the sofa, as about 1 in 8 "crib deaths" take place there.
7,934 sudden infant deaths were reviewed from 24 states by Dr. Jeffrey Colvin, a pediatrician at Children's Mercy Hospital and his team in Kansas City, Mo. Those cases were then compared to each other based on the location where the death occurred, including beds, bassinets and sofas.
Almost 75% of the cases involved infants 3 months old or younger, with an indication that placing infants on a sofa can be particularly hazardous. Many of the parents shared the sofa with their infants, with sleep-deprivation increasing the likelihood of parents falling asleep leaving their infants unattended. Infants can easily get wedged in-between the cushions without any way to breathe. The study also found that the infants who were found on a sofa were more likely discovered on lying on their sides.
There's a "fallacy that if I'm awake or watching, SIDS won't happen," Dr. Colvin said, referring to sudden infant death syndrome.
Although the program director of the SIDS Center of New Jersey, Dr. Ostfeld, was not involved in the study she shared her thoughts with The New York Times as well, "Many parents think for safety, 'I'll put the baby between myself and the back of the sofa…the unplanned and unexpected happens. The grief is beyond painful and endures for a lifetime."
Dr. Colvin recommends that infants sleep alone in a crib, on their backs for sleep during the night and during naps, without a pillow on a flat surface.